In January, Penn State coach James Franklin hired Mike Yurcich to lead the Nittany Lions offense to a new level of productivity, to take Nittany Lions quarterbacks to an elite status, to make Penn State's offense better represent Franklin's vision than it has since Joe Moorhead's tenure in 2016 and 2017.
They were the same reasons Franklin hired Kirk Ciarrocca to do that same job in December of 2019.
In short, resumes matter. Just not nearly as much as production does.
Ciarrocca's offense's didn't produce in 2020, and while Yurcich-run offenses at Oklahoma State and Texas posted eye-popping numbers over the better part of the last decade, it's a stark reality in big-time college football that nothing is guaranteed. Five-star prospects wind up riding pine. Walk-ons become stars. And it wouldn't be the most surprising story if Yurcich's Penn State offenses look a lot like Ciarrocca's which looked a lot like Ricky Rahne's.
That said, there seemed to be something a little different about Mike Yurcich, at least judging by what he said his introductory press conference on Tuesday.
If you haven't seen it, catch it here:
If you don't have half an hour, here are some of the more interesting ideas he dropped during that session, many of which paint a picture of why he is considered much more of a sure bet to get Penn State where it wants — where it needs — to go on offense if it wants to better compete against the likes of Ohio State.
Yurcich, on playing "power football": "I love power football. It's how I was raised. There's a time to go under center. I think it provides a lot of advantages where you can turn your back to the defense. They don't know where the ball is necessarily so I think your play-action passes can increase."
Penn State fans are all like…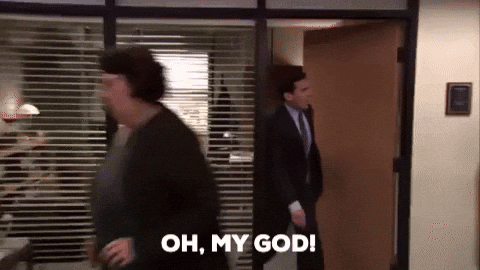 Look, I personally don't love the "Why don't you use fullbacks?" question Franklin always gets, because Penn State uses a fullback. It's what the second tight end does whenever he's on the field and Penn State calls a running play. Instead of Mike Cerimele out there, you have Brenton Strange or Theo Johnson. That's modern-day fullback usage.
You're never going to see the days of 50 runs per game, with Blair Thomas and DJ Dozier just plowing their way behind the line and Tim Manoa for 5 yards a clip. But, I don't think that's the kind of power football Yurcich is talking about. It's about spreading the field, but keeping the defense focused on the guy in the backfield who can get 5 yards a clip.
Penn State doesn't run a ton of true play-action, because it can't. Defenses get a pretty good look at the ball, as Yurcich pointed out.
How often will Penn State line the quarterback up under center? I don't think it's going to happen too, too often. But the bottom line is, there's no resistance to it now, and I think there had been in the past. So, if it's a help to do so — short-yardage situations, perhaps? — they will.
Yurcich, on tempo: "Tempo's been something that's really helped us as an offense. When you're dealing with trying to run an offense with tempo, it can harm you if you're not careful and you don't know what you're doing. But the things that are good about tempo are you try to minimize the amount of communication that the defense can have in between snaps. There's plenty of that based on your alignments, based on where the back is, based on whether it's 3 by 1, based on whether the ball is in the middle of the field. So you're really trying to handcuff them into minimizing how much information they can communicate between each play. You're trying to exhaust them. You're trying to wear them out and get them huffing and puffing. It's an equalizer."
Franklin has talked a lot about tempo the last few years, but I'd argue that Penn State hasn't had a true tempo offense during his tenure.
OK, I'm sure you'll argue Joe Moorhead's offenses were pretty effective, pretty high scoring, and I'd completely agree with that. But they weren't "tempo offenses," where you're getting the play in, getting the snap off, then making a quick, decisive play call that puts you in a position to snap the ball quickly again. That's really what Yurcich is talking about when he talks about tempo: Going quick, running plays in bunches, and tiring out a defense in the process.
The last offensive coordinator who really embodied that for Penn State was Bill O'Brien, and the numbers bear that out.
| | |
| --- | --- |
| Year | Offensive plays per game |
| 2020 | 78.8* |
| 2019 | 68.1 |
| 2018 | 69.2 |
| 2017 | 69.9 |
| 2016 | 66.2 |
| 2015 | 63.7 |
| 2014 | 72.9 |
| 2013 | 75.8 |
| 2012 | 77.6 |
O'Brien's offenses were the only ones, post-Paterno, consistently about 75 plays per game. Which, granted, is a high number.
You're going to point out that Ciarrocca's offense ran 78.8 plays per game, and that's a fact. But, I think that's a bit of an anomaly, a byproduct of Penn State's offense turning the ball over so often, so deep in opposing territory, that it simply handed the offense a few extra possessions per game to build those numbers. My guess, though admittedly it's a complete guess, is that Penn State would be back in the 65-70 play range next season had Ciarrocca been the head coach.
Yurcich, meanwhile, has always had offenses able to get off 70 plays per game during the years when he was a coordinator.
| | |
| --- | --- |
| Year | Offensive plays per game |
| 2020 | 71.5 |
| 2018 | 77.8 |
| 2017 | 77.2 |
| 2016 | 73.5 |
| 2015 | 75.2 |
| 2014 | 69.8 |
| 2013 | 75.9 |
In other words, the year Yurcich's offense got off its least amount of plays per game (2014) pretty much matched the year Moorhead's Penn State offense got off its most per game (2017). Where Penn State was trending with Moorhead is clearly where Yurcich's philosophy has always been.
So, I'd expect Penn State to look much faster on offense. To be more crisp between plays when the game matters most than it has been in recent years, when really they were getting to the line, then subbing, then waiting to see the defensive call — really, doing everything but huddling.
Yurcich, on Christian Veilleux: "I think for any new quarterback coming in, it's nearly impossible to play as a freshman without the experience in that first spring as an early enrollee, which Christian will have. So it gives him a chance. It'd be very hard to be a backup, or even to be able to contribute as an early guy coming in, without that first spring…. It gives him a really good chance to get a leg up and to learn the offense, and to be well versed to give him a chance to compete in the fall for the position of being a backup, or being able to make sure that he's maybe one snap away and can be a really good contributor for us, or maybe being the guy."
A side note here…Yurcich was asked directly about Sean Clifford once, and indirectly a few other times. And he said that he wasn't going to talk individually about his thoughts any player; he said he felt it was fair to take a spring practice session to form more-complete opinions before he shared any kind of thoughts with the press.
Of course, he's right. But in that context, I really didn't know what to make of the comment on Veilleux. Enrolling early gives him a chance? He wouldn't have a chance to contribute if he didn't get into the program this early? It gives him a chance to be "a snap away," or maybe be "the guy?"
Maybe these were meant to be more general comments about any true freshman quarterback these days, and the importance of them enrolling early. But it sure sounded to me like Christian Veilleux might be more in the mix this fall than I originally thought. (Granted, I didn't think he could possibly be in the mix at all, considering he didn't play his senior high school season because of COVID restrictions in Maryland). Maybe it's because…
Yurcich, on the main qualities a QB in his offense needs: "We have to have a guy behind center that can make decisions and be accurate with the football. The most important thing is we have to be able to throw it accurately. We have to be smart. We have to be tough. We have to be good leaders at that position."
I didn't think this was a great press conference, overall, for Clifford.
Yurcich really stressed the importance of delivering the ball accurately, then took a deep dive later into all the things a quarterback has to do fundamentally to make that happen. And, maybe Clifford really takes to that kind of work on his fundamentals and becomes a more accurate passer, especially on those deeper throws.
Clifford's inaccuracy has caused some issues for Penn State. As a starter, he has a 59.8 career completion percentage, which is…fine. It's actually kind of comparable to some of the other quarterbacks Yurcich has succeeded with as a coordinator and quarterbacks coach: Texas' Sam Ehlinger had a 60.2 completion percentage last season, and Oklahoma State's Taylor Cornelius was at 59.4 when he took over at Oklahoma State in 2018.
The bigger issue is…
Yurcich, on the most important tenets of winning games:  "Three things we really look at – 1) turnovers, minimizing the turnovers, winning the turnover battle…"
The difference between Clifford and those two Yurcich quarterbacks is that they were a little cleaner when it came to preventing turnovers and were getting a better yards-per-attempt output (8.0 for Ehlinger, 8.2 for Cornelius) than Clifford got last year (7.5). When Yurcich was his quarterbacks coach in 2019, Ohio State's Justin Fields got 9.2 yards per attempt and threw just three interceptions. In his three years as a starter at Oklahoma State, Mason Rudolph got 9.4 yards per attempt and averaged 0.6 interceptions per game (Clifford is at 0.8 per game as a starter).
The gut feeling among Penn State fans, I would guess, is that Clifford's numbers wouldn't even have been quite that good.
As I told a colleague when we were discussing the Penn State quarterback situation after the press conference, I don't see any way the Nittany Lions can go into a season with what they currently have at quarterback and count on anyone outside of Clifford to lead them. There's just no proof there's any other way.
I think we all believe Penn State is going to get someone to add depth at position through the transfer portal (though, I don't know who that could possibly be at this point, as some of the better prospects sign with new schools). But my strong opinion was that Clifford would go into 2021 as the uncontested starter, especially after Will Levis' transfer announcement. Now, while he's still very likely the favorite, I think he's going to have to show Yurcich he's going to perform a lot better than he did last season and down the stretch in 2019 to seal that.
Yurcich, on designed QB runs: "It all depends on your quarterback and really your depth at quarterback as well. That factors in. We saw in the (NFL) playoffs. The Chiefs run speed option; (Patrick) Mahomes gets concussed and luckily he got to come back the next week. But it makes you think twice about running speed option, right?"
This, I think is good news for Clifford.
Clifford is clearly a better athlete than people originally thought, and he's obviously good enough as a runner to be a factor in the run game for Penn State. That doesn't necessarily make it a good idea, though.
In the middle of the 2019 season — in which he had 10 or more carries in seven of Penn State's 12 games — I asked Clifford if he was worried that he might be taking on too big a load, whether the bumps and bruises associated with taking on so big a role in the run game at the major-college level might affect him moving forward as a passer. And he answered it honestly: Worried probably wasn't the word he used, but he was concerned enough to say that he knew he had to take care of himself well, to minimize that damage.
I have wondered, since, if that was easier said than done. Clifford wasn't the same quarterback in November of 2019 as he was in September and October, when he helped Penn State to an 8-0 start. And I also wonder if some of that carried over into 2020.
I'm not going to inundate you with a bunch of numbers here, looking back at how much Yurcich's quarterbacks have run. Besides, Will Levis ran so often, the Penn State numbers are going to be skewed anyway. But to put it mildly, Clifford's called runs per snap dwarfed Rudolph's and even Justin Fields' numbers.
Health-wise, I think that helps a guy like Clifford. And, it maximizes his running ability by using it only when it's needed most.
Bottom line is, I think Yurcich was brought in because he has an offensive ideology that can build off what Moorhead started, even if he's not going to build off it by doing what Moorhead did.
Not sure where this is headed, of course. Time will tell on that. But this is the right time for something different, to let go of those two tremendous years Moorhead gave Penn State and do something else, under the guidance of someone else, and see where it takes them.
Donnie Collins has been a member of The Times-Tribune sports staff for nearly 20 years and has been the Penn State football beat writer for Times-Shamrock Newspapers since 2004. The Penn State Football Blog covers Nittany Lions, Big Ten and big-time college football news from Beaver Stadium to the practice field, the bowl game to National Letter of Intent Signing Day. Contact: dcollins@timesshamrock.com; 570-348-9100 x5368; @DonnieCollinsTT